"The whole is greater than the sum of its parts." – Aristotle
Optimize your store based on the 10 Maxims for a more successful shopping experience.
Perception of an environment occurs through all human senses. Therefore, it's essential to consider the entire space holistically and design it accordingly. As humans, we naturally tend to feel comfortable in places that provide us with positive experiences, while avoiding places that restrict or burden us. In our reports, we take a holistic and customer-centered view of the principles of store design. The well-being and return rate of customers are at the forefront, ultimately leading to your economic success.
The report series is based on the ten Maxims of Total Stores. For each Maxim, recommendations have been developed based on POS behavioral data, insights from environmental psychology, and interpretive patterns. These recommendations provide valuable insights for planning your store design concept and category management.
What should an ideal main pathway look like? What factors are important for the first impression? How can blind spots be avoided? How can assortment worlds be designed with a customer-centric approach?
USP and Methodological Approach
Total Store Research and Consulting: We combine strategic knowledge with practical case studies to provide concrete recommendations.
The reports are based on scientific findings, representative customer journey studies, and implicit measurements.
Latest insights into customer behavior: We provide in-depth insights from environmental psychology, examine drivers of well-being, and share industry best practices.
In the 10 Maxims, we merge the expertise of category management, sales, and layout planning to achieve optimal integration of disciplines. Because when the customer enters the store, they don't perceive individual services but the overall experience.
With our
Total Store Reports
we illustrate what contributes to the well-being of buyers based on the ten maxims.
Description through heatmap & influence factors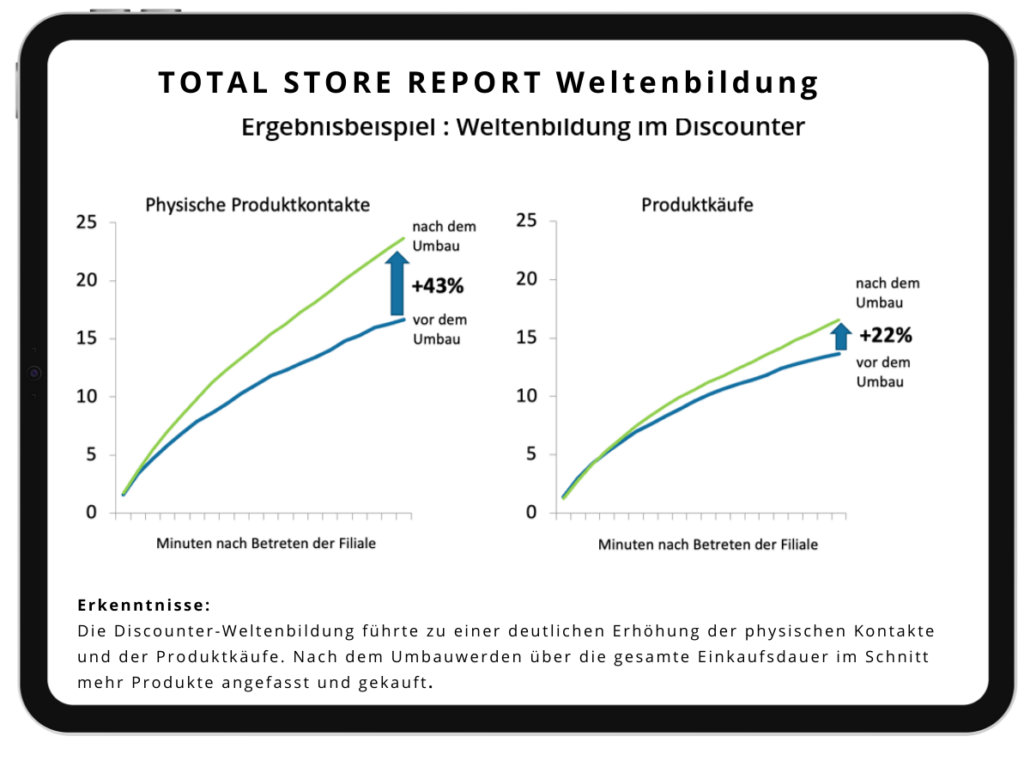 Description through figures

Experience the retail space from the shopper's perspective.

Provides deep insights into the actual behavior of shoppers.
Revealing potentials for success and growth drivers.
Overview of all solutions and methods